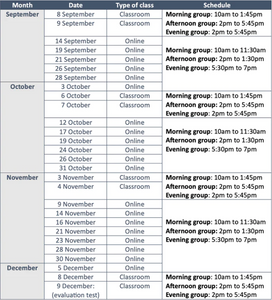 About this course
The students will meet the teacher in a CLASSROOM once a month in Oslo, and follow the rest of the lessons twice a week ONLINE. 
In the first lesson the teacher will introduce you to the course and explain which materials you will use and how you can access those materials. 
Since no textbook is required for this course, it is recommended that the students bring their own laptop or tablet to follow the materials and access the e-learning platform during the lesson.
Duration: 80 lesson hours (40 lesson hours in classroom and 40 lesson hours online)
Place for Classroom lessons: Oslo (city centre), address will be sent after registration
SCHEDULES:
All groups will start classes on the 8th of September, please see calendar below. At this time, only the evening group is available. 

Evening group: ONLINE: Tuesdays and Thursdays online from 17:30-19:00; CLASSROOM: Fridays and Saturdays once a month in classroom from 14:00-18:15.
Students cannot combine different schedules.
IMPORTANT INFORMATION:
- You are registering to a subsidized course based on IMDI funds. To receive a certificate in the end of the course, you will need to attend at least 80% of the lessons. 
- Classroom lessons are mandatory and are 50% of the course. If you don't live in Oslo or cannot attend the physical lessons, we kindly request you to not register for the course. 
- While signing up, please make sure you choose a schedule you can attend. If the schedule you want is full, you need to wait for further places. 
- Before you proceed, please read the criteria in the end of the page to confirm if you are eligible for this subsidized course. 
If you are receiving this link, it means that you were offered a place in the free B2 level subsidized course based on public funds. Only students in the waiting list who qualified for the course will be offered a place. We have limited places and a long waiting list so we recommend you to register ASAP. 
We kindly request you to not share this link with others.